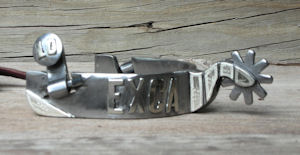 EXCA Short Shank Spur w/ Silver Logo Inlay
SKU

EXCAspur
Price $350.00

350.00
EXCA Short Shank Spur w/ Silver Logo Inlay More Details
This spur was designed by Craig and Dalene Cameron after years of collecting and examining the benefits and drawbacks of various spurs across a broad range of band sizes, shanks, rowels, etc. They took the most desirable attributes from several different "best spurs" and developed their own Craig Cameron Ride Smart™ Spur.
With a 1 inch cuff, a 1 1/4 inch arched shank and a 1 inch rowel (9 point, blunt) this spur is heavy enough to give you a good feel without hanging heavy on your boot or arch.
Engraved silver overlay on the band "EXCA" and "10" for 2010 on the buttons dresses these cowboy tools up - just a might. Perfect for anyone who want to or is competing in Extreme Cowboy Association™ races.
They are perfect for picking up your horse – whenever you intend to! Those just learning to use spurs like them because the shorter shank helps them avoid getting into their horse unintentionally. People accustomed to spurs love them for their great look and even better function
Web Design: Frank Turben - Computer Help
Promotional Giveaways US Only