Cattle Feeder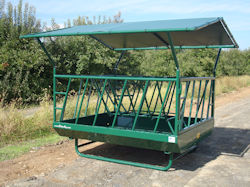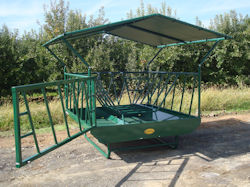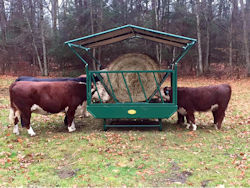 Cattle Feeder
Price: $3860.00 plus shipping
Length: 88 in
Width: 12 ft
Weight: 1915 lbs
Bale Max: 2 round/1 large square
Roof: 10 ft x 14 ft
For larger cattle herds there is the 12' long HFS-8812 which will accommodate 2 round hay bales or 1 large square bale. The 8800 series large bale feeders are finished to look new and remain rust free for years. After fabrication, the entire feeder is acid washed to remove any oils, dirt or other contaminants that could prevent paint adhesion. A coat of epoxy primer forms the base of the finish and is topped off with a finish layer of PPG"¢ two-part polyurethane paint. Due to the "elastic" nature of polyurethane paint it provides a durable finish that resists fading, chalking and chipping unlike many other paints or powder coating.

After 26 years of service one of the first cattle hay feeders Lynn Diller built is still in daily use less than a mile from our manufacturing facility. The Diller commitment to quality is the key to this product's longevity and that commitment to quality lives on today at Diller Ag Equipment. We have only raised the bar on quality and will continue to hold that standard to every feeder, wagon and running gear we put the Diller name on.


Diller Ag offers a complete 3 year warranty on all products. This warranty covers all defects in material and workmanship and is effective from the date the end user takes delivery of their new unit. The obligation of this warranty shall be limited to repairing or replacing any part(s) that, in the opinion of Diller Ag, shall be proven defective in materials and/or workmanship under normal use and service.


Normal wear items are not covered by this warranty. Modification to the original design of the unit may void warranty. Warranty is valid only to the original owner.
Warranty claims must be made through an authorized Diller dealer. The dealer must call our warranty department for authorization for any warranty work to be performed. Failure to get prior authorization may result in unpaid claims.


Diller Ag reserves the right to modify, without notice, specifications and/or designs to their product without incurring any obligation to owners of previously sold product.
Please call or email the office for delivery pricing and options.
254.728.3082
doublehornd@lipan.net


Web Design: Frank Turben - Computer Help
Promotional Giveaways US Only