Pulling & Breast Collars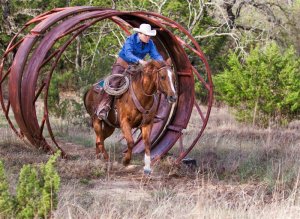 One of Craig's preferred pieces of tack is the pulling collar. The configuration allows it to hold your saddle in place without interfering with your horse's shoulder as he works. Rather than attaching at the D rings, the tugs run through the gullet and over the swells of the pommel. The tugs are long so the pulling collar has a great availability to extend out or snug down - depending on the size of your horse.
We have two 3" pulling collars. One is a plain Harness Leather collar. The leather is beautiful, a thick premium harness leather that is very supple. The second collar is Spider Tooled. Since harness leather does not take tooling as well, the tooled collar is made of a premium skirting leather and the surface is more amenable to the tooling process. They are both beautiful pieces of tack. The Harness Leather collar is a couple of shades lighter than the tooled collar.
Customer Comment:
Sue from Morgan Mill, TX
"My horse is 16.2 and has to lean down a long way to drink. With the pulling collar, I unbuckle one of the tugs and just hold it or re-buckle it on the last hole while my horse stretches his neck down to drink. When we're ready, I just re-buckle it at the original position. This is easy and convenient because the tugs and buckles are immediately in front of you extending forward and down from the saddle swells. Bonus! It's tight enough to hold the saddle where I want it, convenient to relax if desired while I am in the saddle."


Web Design: Frank Turben - Computer Help
Promotional Giveaways US Only