Small Square Bale Feeder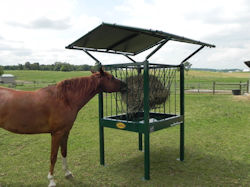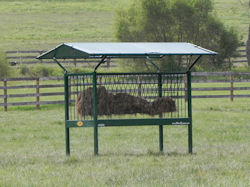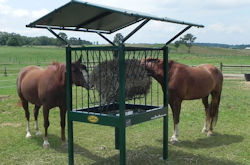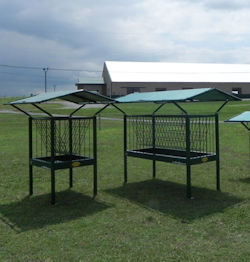 Small Square Bale Feeder
4 ft Feeder $1300.00 plus shipping
Length: 4 ft
Width: 42 in
Weight: 455 lbs
Bale Max: 2 small square bales
Head Cap: 1-3 ft
Roof: 6 ft x 6 ft

8 ft Feeder $1800.00 plus shipping
Length: 8 ft
Width: 42 in
Weight: 675 lbs
Bale Max: 4 small square bales
Head Cap: 1-6 ft
Roof: 6 ft x 10 ft
This line of horse hay feeders is designed to feed small square bales. Diller's large hay bale horse feeders have been popular for years, but many owners with a smaller number of horses still prefer to feed with small square bales. The 4200H series is 42 inches wide with a choice of 4ft or 8ft lengths, suitable to for use both indoors and outdoors. The 4ft hay feeder will handle 2 small square bales and is perfect for feeding 1-3 horses, the larger 8ft feeder will hold 4-6 bales and is suitable for up to 6 horses.
Both of these horse feeders feature a hay saving basket that limits the amount of hay pulled from the feeder with each bite, reducing waste and slowing consumption. The 42" wide feeder pan catches any hay that falls as the horse feeds and virtually eliminates ground waste. Both feeders are available with an optional vinyl coated polyester roof kit that protects the hay from bad weather.

Diller's small square bale horse feeders are built to last, with heavy sch.40 pipe, 12 gauge steel pans and 11 gauge steel tube frame. An investment in a Diller horse feeder will last for decades and will reduce wasted hay.

Diller Ag offers a complete 3 year warranty on all products. This warranty covers all defects in material and workmanship and is effective from the date the end user takes delivery of their new unit. The obligation of this warranty shall be limited to repairing or replacing any part(s) that, in the opinion of Diller Ag, shall be proven defective in materials and/or workmanship under normal use and service.

Normal wear items are not covered by this warranty. Modification to the original design of the unit may void warranty. Warranty is valid only to the original owner.

Warranty claims must be made through an authorized Diller dealer. The dealer must call our warranty department for authorization for any warranty work to be performed. Failure to get prior authorization may result in unpaid claims.

Diller Ag reserves the right to modify, without notice, specifications and/or designs to their product without incurring any obligation to owners of previously sold product.

Please call or email the office for delivery pricing and options.
254.728.3082
doublehornd@lipan.net


Web Design: Frank Turben - Computer Help
Promotional Giveaways US Only