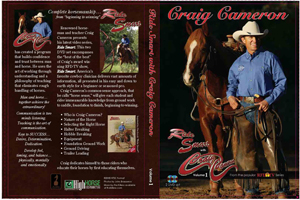 New Ride Smart DVD Volume 1
SKU

ridesmart
Price $39.95

39.95
New Ride Smart DVD Volume 1 More Details
"Craig Cameron has created a program that builds confidence and trust between man and horse. He uses the art of working through understanding and philosophy of teaching that eliminates rough handling of horses.
"Man and horse...
together achieve the extraordinary!
Communication is two minds listening.
Teaching is the art of communication
Keys to SUCCESS...
Desire, Determination, Dedication.
Develop feel, timing, and balance...
physically, mentally and emotionally
Complete horsemanship...from "beginning to winning"
Renowned horseman and teacher Craig Cameron presents his latest video series, "Ride Smart." This two DVD set encompasses the "Best of the best" of Craigs award winning RFD-TV show, "Ride Smart." America's favorite cowboy clinician delivers vast amounts of information, all presented in his easy and down to earth style for a beginner or seasoned-pro.
Craig Cameron's common-sense approach, that he calls "horse sense,"
will give each student and rider immeasurable knowledge from ground work to saddle, foundation to finish, beginning-to-winning.
1. Who is Craig Cameron
2. Nature of the Horse
3. Selecting the Right Horse
4. Halter Breaking
5. Hobble Breaking
6. Equipment
7. Foundation Ground Work
8. Ground Driving
9. Trailer Loading
Craig dedicates himself to those riders who educate their horses by first educating themselves.
Web Design: Frank Turben - Computer Help
Promotional Giveaways US Only