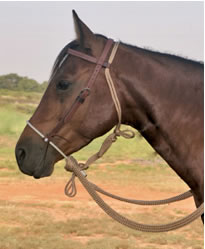 3/8 Inch Single-Nose Rope Hackamore
SKU

HK1
Price $230.00

230.00
3/8 Inch Single-Nose Rope Hackamore More Details
These Hackamores are constructed from hard-lay nylon rope and are sized to fit the smaller colts being ridden today.
Latigo leather 1/2" headstall has been edged, hand-rubbed, oiled with Neatsfoot Oil and hand-rubbed again; beveled stainless steel buckle with leather loop. Fiadores are tan 1/4" nylon rope with nylon ring knots at tips to prevent unraveling.
The 3/8" noseband with with headstall and fiador is perfect for starting colts.
Brown 1/2" solid-braid nylon hackamore rein. Reins are 16 feet long with 3/4" leather poppers at each end. The reins are tied to work with some direct pull on the sides, like a sidepull, but allow easier one-handed riding if desired.
Web Design: Frank Turben - Computer Help
Promotional Giveaways US Only