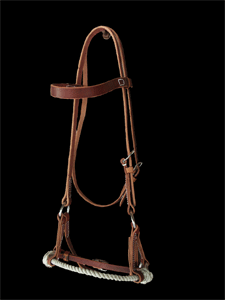 Sidepull w/ Harness Leather Headstall and Single Rope Noseband
SKU

CCSP243
Price $250.00

250.00
Sidepull w/ Harness Leather Headstall and Single Rope Noseband More Details
Description: The noseband on the Single Nose Sidepull is made of 3/8 inch firm nylon rope specially designed to lay correctly from the first ride. The headstall is made of single ply, 3/4 inch, dense, tight-fibered harness leather and has a 5/8 inch throat latch. The leather has been edged, hand-rubbed, oiled with Neatsfoot Oil and hand-rubbed again. The buckles and rings are all stainless steel.
How it works: Sidepulls are a good piece of equipment to use for starting colts. Using a sidepull is a nice way to teach young horses to move through turns with their noses first without putting any pressure on their delicate mouths. Once the colt is turning well with direct pressure from the sidepull a trainer will move to the snaffle, hackamore or bosal.
Craig's favorite
"Hi Dalene. Joe Forbis here. Just wanted to say thank you for a very high quality made side pull. Just wonderful!! Wow, what a great deal! I will make sure I get all my tack from you. I couln't believe the quality for the money. Now I can't wait until GG needs a hackamore. Love Craig's DVDS, also. Thank you so very much. Joe Forbis"
Web Design: Frank Turben - Computer Help
Promotional Giveaways US Only