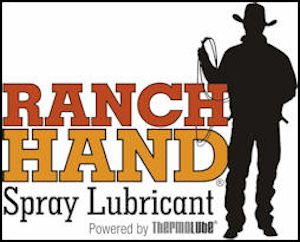 Ranch Hand
SKU

Ranch Hand
Price $11.99

11.99
Ranch Hand More Details
RANCH HAND
™
is an all-around performance lubricant that consistently outperforms the leading brands.
Specifically designed for the rigors of the Farm and Ranch industry, RANCH HAND can also tackle a variety of Household, Commercial, Industrial, Marine and Sporting needs.
Truly a green technology, RANCH HAND is an earth friendly solution that does not contain petroleum distillates. From the working ranch to the home garage, RANCH HAND, is the best helping hand you can find. RANCH HAND - powered by Thermolube®. , lubricates, silences squeaks, loosens stubborn parts, frees frozen mechanisms, defends against corrosion, displaces moisture, decreases noise and is both environmentally responsible and long lasting.
· "I just finished cleaning and lubricating my fly fishing reel using Ranch Hand and I am really impressed. First, the spray is tight and compact and therefore easy to direct and control. Second, the product is amazingly lubricating. The twist that holds the reel in place was so tight I had to get a wrench to turn it. After spraying on Ranch Hand I could easily do it with my fingers. Also, when I sprayed the gears and then put the reel back together, the reel snapped together with no sound. I had to check to make sure it really was in place. Amazing. The ranch Hand liquid looks clean (pure) and has no offensive odor. This is really a great product."
· Had a very loud squeaky garage door! I used it on that garage door.WD-40 couldn't do the job and Ranch Hand has fixed the noisy problem first time! It really is a good product! Regards, Bill
· "I had trouble with a locking file cabinet. The key was hard to insert and it was hard to turn the key once it was in place. I squirted some Ranch Hand into the lock and the when it was open, onto the turning mechanism. Wow like magic - problem solved. No smelly distillates like the major competitor and a small spray stream if you lightly press the spray button. Great stuff!"
· "Not only did I use Ranch Hand on my squeaky doors around the house, but also used the product as a cleaner/degreaser for cleaning off engine parts and as a lubricator for those rusty tools in my garage. Ranch Hand bonds extremely well to metal and made all my engine parts look like new again! The best part is that it is green! What a wonderful product!"
· I once had a door hinge that squeaked, it crackled, and hackled and creaked, I sprayed it with Ranch Hand the best lubricant brand and now its performance is peaked!
· "My wife had been nagging me for months to do something about the squeaky hinges on the front doors -- I used a few different things --- WD-40, Liquid Wrench, etc. --- nothing really worked very well --- until Ranch Hand. It made an instant difference, and the door squeaks no more, and my wife is happy, which is a very good thing! I also like very much that the product is "Green", and that it's Made in the good old USA!!
· "The doors on some of my kitchen cabinets made a sort of grinding sound when I opened and closed them. All it took was one application of Ranch Hand and there were no more sounds. The opened and closed with ease. Great lubricant. Better than anything else I have ever used." Gary
· "Thank goodness I don't ever have to use that pitiful WD-40 product again. With RanchHand, everything and anything that needs any kind of lubrication can be handled with just one squirt!"
Web Design: Frank Turben - Computer Help
Promotional Giveaways US Only