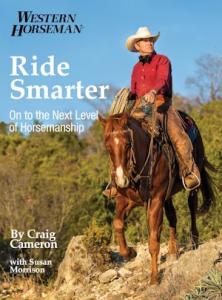 Ride Smarter
SKU

Smarterbook
Price $24.95

24.95
Ride Smarter More Details
Since 2004, when Craig Cameron's book Ride Smart was printed, the clinician's popularity has only grown. With his 2010 championship at the prestigious Road to the Horse, he gained even more followers to his no-nonsense approach to training and riding. Cameron's easygoing teaching style, beloved by his students, is now found in this follow-up to his popular first book.
In Ride Smarter, readers learn to further develop their horsemanship skills and continue on the road to becoming true horsemen and -women. Cameron continues to build on some of the topics covered in his first volume, and adds valuable information that riders of all levels of expertise can use in improving their riding experiences.
Early chapters in this second book talk about the qualities that make a good horseman, and the responsibilities each person has to his or her horse. Cameron gives tips on selecting the right horse, making a smart purchase and knowing when it's time to change horses. He discusses caring for your horse at home and on the road, something he's familiar with after logging thousands of miles with his horses in tow.
In Ride Smarter's later chapters, Cameron addresses the advantages of different bits, and then delves into the use of cues and how important they are. He also discusses the fine art of correction, and helps readers understand when discipline is necessary, and offers tips on understanding and riding the different gaits.
One of Cameron's goals when training is to develop a horse that does anything the horseman asks, and in one chapter Cameron relates how to create what he calls the "brave horse." He then discusses the advantages of cross-training between the arena and the trail, and patterns and obstacles that you can use to advance both your and your horse's skills.
In his clinics, Cameron answers numerous questions about problem horses, and Chapter 15 addresses the most frequently discussed problems and the clinician's approach to fixing each one. Cameron also takes a humorous look at some "people problems" that your horse might tell you about if he could talk. And finally, this top hand talks about setting goals for your horse and your horsemanship, and how valuable having that sense of direction can be.
As in Cameron's first book, chapters in this second book, Ride Smarter, include a "True Story," a personal anecdote about a memorable experience; "Here's How" with simple and practical training tips; and "A Better Way," which provides workable approaches to common problems encountered in achieving horsemanship and horse-handling goals.
Anyone who has been to Cameron's clinics can appreciate the straightforward instruction the Texas horseman offers. Those who haven't had the pleasure of meeting Craig Cameron in person get a good look at the training techniques and coaching skills that have earned him a reputation as the "Cowboy's Clinician." Ride Smarter helps readers advance in the adventure of horsemanship.


Web Design: Frank Turben - Computer Help
Promotional Giveaways US Only