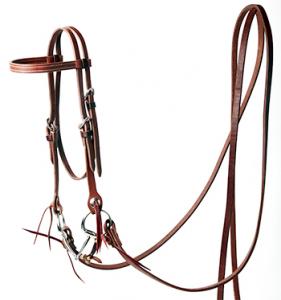 Complete Headstall
SKU

CompleteEggButt
Price $345.00

345.00
Complete Headstall More Details
Headstall: 3/4 inch Browband Headstall This 3/4 Inch Browband Headstall is made of heavy single ply harness leather, 3/4 inches wide. The leather has been hand-edged, hand-rubbed, oiled and hand-rubbed again. The Browband is doubled and stitched to give a very eye-catching appearance. The throatlatch is made of 5/8 inch single ply leather. All buckles are beveled stainless steel with leather loop keepers. The leather beneath the buckles is hand sewn together to prevent the buckles from slipping which helps make this headstall so nice to adjust to fit different horses.

Bit: Egg Butt Snaffle The Egg Butt mouthpiece has a slight bow which tends to be easier on the mouth while at the same time giving a stronger signal than the ring snaffle. The mouthpiece is inlaid with copper to promote moistness in the mouth.

Reins: Harness Leather Split Reins These hand cut, hand-edged reins are 6 1/2 to 7 feet long and 5/8 inch wide. They are just right for riding colts and horses of any age. These reins have a great feel and weight to them.
"Pick it up and feel the difference" - Craig Cameron

Web Design: Frank Turben - Computer Help
Promotional Giveaways US Only