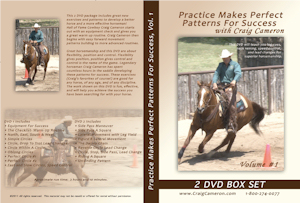 Practice Makes Perfect DVD Set
SKU

120211
Price $49.95

49.95
Practice Makes Perfect DVD Set More Details
Want to enhance your horsemanship skills? Do you wish to sharpen your horses' abilities? Are you looking for new exercises and practical methods to develop the art of horse-man-ship?

Craig Cameron's new DVD Practice Makes Perfect is now available. This is the video everyone has been asking for and all students of the horse are wanting.

Beginner, intermediate or advanced, trainer, clinician, or private lesson teacher, Craig Cameron's Practice Makes Perfect gives you exciting new patterns and exercises that will bring out the best in horse and rider. These patterns will help develop flexibility, straightness and control for all levels of horses and horse people. The advice and techniques shown on this DVD will teach you leg cues, neck reining, speed control, and lead changes for superior horsemanship. Craig Cameron invites you to listen in, saddle up, and get ready to learn and ride.
Web Design: Frank Turben - Computer Help
Promotional Giveaways US Only