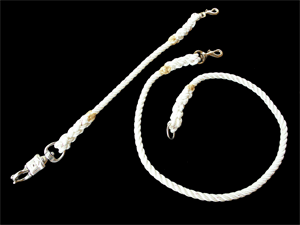 Craig Cameron Check-Line Kit
SKU

T1
Price $46.00

46.00
More Details
Other items you might want to order:
Craig Cameron Check-Line Kit More Details
A Craig Cameron original, the Check-Line Kit was developed to teach flexibility and position to your horse. This multi-purpose product checks a horse in the lateral and vertical positions, enabling you to achieve collection and softness in your horse. Our check line is demonstrated in Craig Cameron DVD #2, Dark Into Light.
Other items you might want to order:
Web Design: Frank Turben - Computer Help
Promotional Giveaways US Only