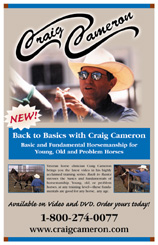 Back To Basics
SKU

V104
Price $39.95

39.95
Back To Basics More Details
"Back to Basics is the video you've been asking for— all the information on this tape can be used for any horse of any age. It is important to remember that simple basics are the key to good horsemanship and from good beginnings things come naturally. Back to Basics is an exciting and informative two-hour blockbuster that covers round-pen work "from beginning to winning." Craig works with a totally green horse and takes you through the steps in a clear uncomplicated format. In addition, this video covers round-pen use and understanding, gentling and desensitizing, first-saddling, ground driving, correct introduction of the bit, hobbling, laying the horse down, trailer loading and much more.
Back to Basics video is applicable for any level of horsemanship. It is shot in a clear two camera angle for easy viewing. You have the opportunity to witness and learn all the little ins and outs plus tricks of the trade from America's favorite horseman.
Ride like a Champion!
—Craig Cameron "
Web Design: Frank Turben - Computer Help
Promotional Giveaways US Only