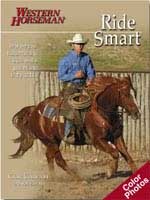 Ride Smart with Craig Cameron
SKU

Book
Price $21.95

21.95
Ride Smart with Craig Cameron More Details
By Craig Cameron with Kathy Swan, Cameron brings together a thorough look at horses and good, solid horsemanship skills that suit both novice and experienced riders. He delves into the psychological and physical realities of horses as a species and how man can best understand them to develop a solid partnership with the horse.

20 chapters with 224 pages

"I bought your book just over a month ago. It has helped me in so many ways. I have a new understanding of horsemanship and how I should handle my horse and how to present "problems" to her to allow her the opportunity to work them out. When I bought her we spent 6 hours trying to get her into the trailer and didn't take her home that day. The girl I bought her from had to ride her 8 miles to my house. Using methods you teach, I can now enjoy my horse anywhere I want to take her. After reading your book the first time, I applied the methods you wrote about. My horse responds to the techniques you teach so much better than the heavy handed ways I'd been taught before. My relationship with my horse and my confidence while riding and working my horse is so much greater than before. Thank you for writing this book and giving me a huge tool to build mine and my horse's relationship and making me a better horseman.
Thank you,
Gerry
Web Design: Frank Turben - Computer Help
Promotional Giveaways US Only