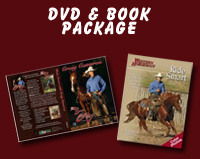 Ride Smart DVD & Book Package
SKU

package_dvdbook
Price $64.95

64.95
Ride Smart DVD & Book Package More Details
Ride Smart Book and DVD -Softbound book with more than 250 full color photos.
20 chapters with 224 pages

-A Two DVD set encompassing the "Best of the best" of Craig's award winning RFD-TV show, "Ride Smart." America's favorite cowboy clinician delivers vast amounts of information, all presented in his easy and down to earth style for a beginner or seasoned-pro.
Web Design: Frank Turben - Computer Help
Promotional Giveaways US Only