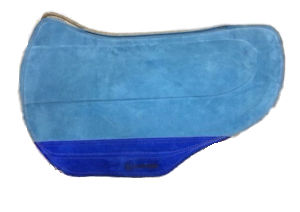 Round Barrel Pad
Price $309.00

309.00
Round Barrel Pad More Details
Standard Size: 24 inch - 32 inch Front to Back, 30 inch - 32 inch Drop
What a cutie! Great basic round pad perfect for those round shorter skirted saddles. This pad works with most round skirted, treed type barrel saddles. Comes standard 29 back x30 drop. Get this one in the suede cover, wool felt-suede combo, or make a statement with a "Vegas" two-tone suede.
*"Vegas" model option is a choice of two suede colors. Choose a body color, and contrasting trim color. Wear leathers are not available on this model. (See swatch samples).
*"Legacy" upgrade adds an additional 1/8-inch core material to the bar area of the pad only. This brings the thickness of the pad from 5/8 to ¾ thickness in the bar area. The weight bearing capacity of the pad changes from 300lbs to 600lbs load.
This is the most popular upgrade for horses with strenuous riding applications such as Roping, Ranching, extended hours of trail riding, etc.. It is also the best upgrade for horses with Atrophy, Kissing Spine, or mild drop of the back. This is a $20 upgrade and is available on all models excluding our English, and Race Pads.
*When taking measurements, or ordering your pad, use the first number to indicate the back length (24-32). The second number is the "Drop" and indicates the width of the pad from side to side.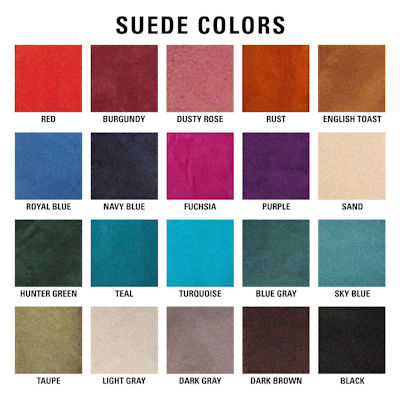 Saddle Pad Measure PDF
Cleaning Instructions PDF
Specifications
PRODUCT FEATURES:
Orthopedic Saddle Pads for Horses
Constructed using specialized core material with proven orthopedic value
Core material is guaranteed never to compress, deform or degrade
WE DO NOT use memory foam, gel foam, air bladders — all of which significantly increase pressure points on the horse
Unique core material moves and recoils with the movement of the horse
Options to fit any size saddle including English and Western Styles
100% Lifetime Guarantee*
Finest Quality Glove and suede leathers used for durability and visual appealing quality
100% Pressed Wool Felt for optimal moisture wicking and temperature control
100% Handmade in the USA for over 30 years!
Warranty
Warranty Information –
SaddleRight Lifetime Guarantee
The outer covering of all SaddleRight pads is your first assurance of quality. We hand select only the finest quality leathers, 100% wool materials and other fine quality materials for every pad we manufacture. These materials not only add beauty, but are necessary for the function of your pad.
When our unique orthopedic material is securely encased in our original cover (leather or wool), we guarantee that it will not compress or deform in any way for life.
30 Day Money Back Guarantee
30 Day unconditional money back guarantee. Upon receipt of your originally purchased pad, we will refund your full saddle pad purchase price less shipping charges.
1 Year Workmanship Warranty
1 year for workmanship on the covering. All return shipping charges will be paid by SaddleRight.
Trade Back Program
Our Trade Back Program offers an opportunity to always have the perfect pad – whether it is time for a new look or just time for a new pad. Simply choose the style/color and other options of your new pad and pay 50% of the retail price plus shipping. Next, we will ship your new pad and when it arrives, just send your old pad back to us (regardless of condition) in the box provided. Return shipping is at the customer's expense. It's that easy – really!
Web Design: Frank Turben - Computer Help
Promotional Giveaways US Only